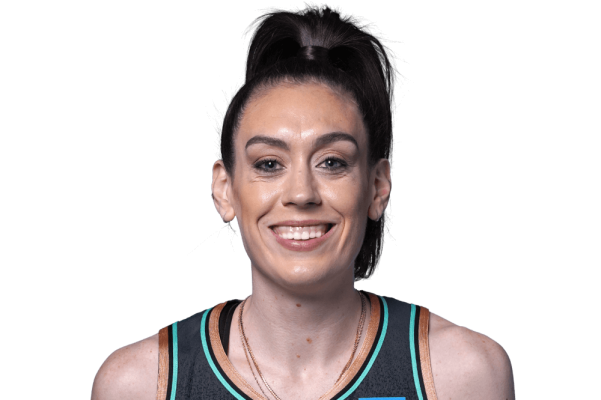 Breanna Stewart
NBA 2K24 Rating
Nationality: United States
Team: New York Liberty
Archetype: 2-Way 3-Level Playmaker
Height: 6'4" (193cm) | Weight: 170lbs (77kg)
Jersey: #30
Year(s) in the WNBA: 7
Date of Birth: August 27, 1994
Hometown: North Syracuse, New York
Prior to WNBA: Connecticut
Compare Breanna Stewart


3

10

29

6

48

Breanna Stewart's NBA 2K24 Rating is 97
About Breanna Stewart
Breanna Stewart is a 29-year old American professional basketball player who plays at the Power Forward or Small Forward position for the New York Liberty in the WNBA. She was the 1st overall pick in the 2016 WNBA Draft.
Breanna Stewart on NBA 2K24
On NBA 2K24, Breanna Stewart has an Overall 2K Rating of 97 with a 2-Way 3-Level Playmaker Build. She has a total of 34 Badges in which 3 of them are Hall of Fame Level. The above line graph shows her 2K Rating Season Movement while below are her Attributes and Badges.
94

Close Shot

90

Mid-Range Shot

86

Three-Point Shot

86

Free Throw

98

Shot IQ

98

Offensive Consistency
80

Speed

80

Acceleration

82

Strength

68

Vertical

97

Stamina

95

Hustle

80

Overall Durability
96

Layup

25

Standing Dunk

25

Driving Dunk

89

Post Hook

89

Post Fade

84

Post Control

93

Draw Foul

98

Hands
84

Pass Accuracy

79

Ball Handle

73

Speed with Ball

85

Pass IQ

71

Pass Vision
92

Interior Defense

79

Perimeter Defense

73

Steal

85

Block

78

Lateral Quickness

86

Help Defense IQ

86

Pass Perception

85

Defensive Consistency
77

Offensive Rebound

85

Defensive Rebound

Big Driver
Finishing
Increases the chances of a blow-by when attacking off the dribble in either the mid-range area or the paint

Catch & Shoot
Shooting
Boosts the chance of hitting a jump shot immediately after a catch

Claymore
Shooting
Increases the ability to knock down perimeter shots when spotting up patiently

Fearless Finisher
Finishing
Improves the ability to convert contact layups

Open Looks
Shooting
Improves your ability to make Wide Open jump shots

Whistle
Finishing
Increases the chances of drawing fouls when trying to score

Acrobat
Finishing
Boosts the ability to make layups that have a high degree of difficulty

Agent 3
Shooting
Improves the ability to make pull-up or spin shots from three point range

Backdown Punisher
Finishing
Increases the chances of a player successfully backing down their opponent

Bail Out
Playmaking
Passing out of a jump shot or layup yields fewer errant passes than normal. Additionally, helps passing out of double teams

Blinders
Shooting
Becomes unfazed by defenders from the side

Break Starter
Playmaking
Improves a player's ability to make effective outlet passes after grabbing a rebound

Brick Wall
DEF/REB
Increases the effectiveness of screens and drains energy from opponents on physical contact

Bulldozer
Playmaking
Improves a ball handler's strength in overpowering defenders

Bunny
Finishing
Improves your ability to make hop step layups/dunks

Corner Specialist
Shooting
Gives a boost to shots taken in the corner

Deadeye
Shooting
Reduces the impact of a defender who is closing out

Dream Shake
Finishing
Raises the chances of defenders biting on post fakes, and increases the shot chance

Fast Twitch
Finishing
Speeds up standing layups or dunks around the rim

Float Game
Finishing
Improves your ability to make floaters

Free Points
Shooting
Gives a boost to free point shooting during clutch moments

Green Machine
Shooting
Increases the bonus given for consecutive excellent releases

Guard Up
Shooting
Increases the ability to make jump shots when defenders fail to properly contest

Masher
Finishing
Improves a player's ability to finish well around the rim, especially over smaller defenders

Middy Magician
Shooting
Boosts the effectiveness of a variety of shots from the mid-range area

Post Fade Phenom
Shooting
Improves your ability to make fades and hop shots

Post Playmaker
Playmaking
When passing our of the post or after an offensive rebound, receivers are given a shot boost

Post Spin Technician
Finishing
Improves the ability of a post spin or drive to work effectively

Pro Touch
Finishing
Gives an additional boost for having a good layup timing

Scooper
Finishing
Improves your ability to make quick scoop layups

Slippery Off-Ball
Shooting
Strenghtens the player's ability to get open off the ball

Slithery
Finishing
Reduces the chances of being bothered by defenders when navigating into the lane

Spin Cycle
Finishing
Improves your ability to make spin layups/dunks

Spot Finder
Shooting
Gives boost to open moves

Two Step
Finishing
Improves your ability to make euro step and cradle layups/dunks

Anchor
DEF/REB
Increases a player's ability to block shots and protect the rim at a high level

Boxout Beast
DEF/REB
Improves a player's ability to fight in the paint to get good rebounding position

Challenger
DEF/REB
Improves the effectiveness of well-timed contests against perimeter shooters

Chase Down Artist
DEF/REB
Boosts the speed and leaping ability of a player when he is chasing down an offensive player in anticipation of a block attempt

Dropstepper
Finishing
Improves a player's ability to effectively use dropsteps in the post

Hook Specialist
Shooting
Improves your ability to make hook shots

Immovable Enforcer
DEF/REB
Improves a defensive player's strength when defending ball handlers and finishers

Post Lockdown
DEF/REB
Strengthens a player's ability to effectively defend moves in the post, with an increased chance at stripping the opponent

Relay Passer
Playmaking
Gives boost to shooters on Pass to Assist

Work Horse
DEF/REB
Increases a player's speed and ability to get loose balls over the opponenet

Off-Ball Pest
DEF/REB
Improves a player's ability to bump and harass the offense off the ball

Pogo Stick
DEF/REB
Improves the ability to recover and jump quicker after landing

Touch Passer
Playmaking
Speeds up how quickly a player passes the ball if they just received it

Big Driver
Finishing
Increases the chances of a blow-by when attacking off the dribble in either the mid-range area or the paint

Fearless Finisher
Finishing
Improves the ability to convert contact layups

Whistle
Finishing
Increases the chances of drawing fouls when trying to score

Acrobat
Finishing
Boosts the ability to make layups that have a high degree of difficulty

Backdown Punisher
Finishing
Increases the chances of a player successfully backing down their opponent

Bunny
Finishing
Improves your ability to make hop step layups/dunks

Dream Shake
Finishing
Raises the chances of defenders biting on post fakes, and increases the shot chance

Fast Twitch
Finishing
Speeds up standing layups or dunks around the rim

Float Game
Finishing
Improves your ability to make floaters

Masher
Finishing
Improves a player's ability to finish well around the rim, especially over smaller defenders

Post Spin Technician
Finishing
Improves the ability of a post spin or drive to work effectively

Pro Touch
Finishing
Gives an additional boost for having a good layup timing

Scooper
Finishing
Improves your ability to make quick scoop layups

Slithery
Finishing
Reduces the chances of being bothered by defenders when navigating into the lane

Spin Cycle
Finishing
Improves your ability to make spin layups/dunks

Two Step
Finishing
Improves your ability to make euro step and cradle layups/dunks

Dropstepper
Finishing
Improves a player's ability to effectively use dropsteps in the post

Catch & Shoot
Shooting
Boosts the chance of hitting a jump shot immediately after a catch

Claymore
Shooting
Increases the ability to knock down perimeter shots when spotting up patiently

Open Looks
Shooting
Improves your ability to make Wide Open jump shots

Agent 3
Shooting
Improves the ability to make pull-up or spin shots from three point range

Blinders
Shooting
Becomes unfazed by defenders from the side

Corner Specialist
Shooting
Gives a boost to shots taken in the corner

Deadeye
Shooting
Reduces the impact of a defender who is closing out

Free Points
Shooting
Gives a boost to free point shooting during clutch moments

Green Machine
Shooting
Increases the bonus given for consecutive excellent releases

Guard Up
Shooting
Increases the ability to make jump shots when defenders fail to properly contest

Middy Magician
Shooting
Boosts the effectiveness of a variety of shots from the mid-range area

Post Fade Phenom
Shooting
Improves your ability to make fades and hop shots

Slippery Off-Ball
Shooting
Strenghtens the player's ability to get open off the ball

Spot Finder
Shooting
Gives boost to open moves

Hook Specialist
Shooting
Improves your ability to make hook shots

Bail Out
Playmaking
Passing out of a jump shot or layup yields fewer errant passes than normal. Additionally, helps passing out of double teams

Break Starter
Playmaking
Improves a player's ability to make effective outlet passes after grabbing a rebound

Bulldozer
Playmaking
Improves a ball handler's strength in overpowering defenders

Post Playmaker
Playmaking
When passing our of the post or after an offensive rebound, receivers are given a shot boost

Relay Passer
Playmaking
Gives boost to shooters on Pass to Assist

Touch Passer
Playmaking
Speeds up how quickly a player passes the ball if they just received it

Brick Wall
DEF/REB
Increases the effectiveness of screens and drains energy from opponents on physical contact

Anchor
DEF/REB
Increases a player's ability to block shots and protect the rim at a high level

Boxout Beast
DEF/REB
Improves a player's ability to fight in the paint to get good rebounding position

Challenger
DEF/REB
Improves the effectiveness of well-timed contests against perimeter shooters

Chase Down Artist
DEF/REB
Boosts the speed and leaping ability of a player when he is chasing down an offensive player in anticipation of a block attempt

Immovable Enforcer
DEF/REB
Improves a defensive player's strength when defending ball handlers and finishers

Post Lockdown
DEF/REB
Strengthens a player's ability to effectively defend moves in the post, with an increased chance at stripping the opponent

Work Horse
DEF/REB
Increases a player's speed and ability to get loose balls over the opponenet

Off-Ball Pest
DEF/REB
Improves a player's ability to bump and harass the offense off the ball

Pogo Stick
DEF/REB
Improves the ability to recover and jump quicker after landing